How un-Malaysian are you?
Friday, August 25, 2006
Congratulations Chen Qian, you are 28% not Malaysian.
That means you're as Malaysian as...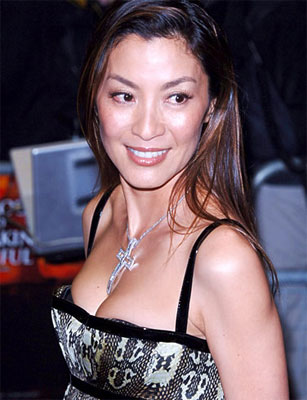 Michelle Yeoh!

I can't believe I'm so un-Malaysian. Although I have to admit, Michelle Yeoh is hot!

Click on the link to see how un-Malaysian you are! Thanks, Kenny!

Welcome!
Saturday, August 19, 2006
It has occured to me that most of you, if not all of you, will probably never get to see my house here in Adelaide. So, I have decided to give you a virtual tour of the house.
So please, step inside, and we'll begin.
All the rooms are on the right side, and on the left side, there are open spaces to sit, and eat or if you're my housemates, to smoke.
Well, this is my near-spotless bathroom.
Left room is Yang's. And mine's on the right. I can't show you his room, but you can have a look-see in mine.
First time I've ever had a queen-size bed all to myself. My landlady even gave me brand-new, unopened sheets! Cool, huh?
My huge work-desk. Which is still not big enough for me...sigh.... oh well. shouldn't complain.
My huge walk-in closet. Which has too much space.
See? I can even put my shoes inside.
Washer and dryer. Door leads to the nxt house. I have two landlords. Each stay in one house. My house is nicer, though. Hehehe.... Seriously. And the dogs move between houses. That's what the doggy door is for.
The dining room, which is hardly ever used for eating.
My often-unused TV which has cable. *note to self - must watch more tv*
Susie's amazing kitchen, which I've been fully utilising to make Yang and
Chiam
fat. Ok, fine. Me also. It's just that I've only now discovered the joys of cooking/baking, and being appreciated for it. No regrets.
Smoking and breakfast area. It's so nice and sunny in the mornings. We should have a BBQ soon...
I also like to sit outside coz I get to see these lovely flowers in my backyard.
This is all taken with my new
handphone
, btw.
Everyone say hello to Turbo! Isn't she cute? She likes to stay near the heater, or sunshine. As you can see from the picture below.
She's always hoping for food, though. One of the guys from the next house made the mistake of giving her chicken bones once. And now, every night, she'll sit outside his room, and WAIT for him. Once, Susie said she sat outside for one and a half hours. Sigh.... turbo, turbo...
And this, is Susie's darling, Coburn. Apprarently, she had two dogs before. Dallas and Coburn. Named after Bruce Willis' character in Die Hard, I think... At least, that's the story I heard. Unfortunately Dallas had some throat problem, so, u know.... Anyway! Back to Coburn.
Isn't he cute? Yang thinks he's too stoned though... We're actually very lucky to have dogs around. Most of the students here aren't allowed to have dogs. Probably can't afford it either...so it's nice to have someone who doesn't judge you around here. And some of them like to come over to play with the dogs as well. So we often have company. Which is nice.
Anyway, hope you all had fun. I've already spent too much time blogging. Need to study now! Take care, peeps! Pls leave comments so I know if you've been reading. Love y'all!
Spring cont.
Sorry, ppl! It's just that I do so love flowers!!!! And it's too expensive to buy them....so we make do. Hehehe....enjoy.
These reminded me of mini cotton-puffs
Here's another for Andy-pandy!
Interesting...didn't know that plants did abstract art...
I thought these looked like rambutans. Don't you agree?
It'S spRinGtimE!!!!
Tuesday, August 15, 2006
Due do the abundance of blossoms everywhere and the gorgeous weather which we've been having, adelaide is looking so beautiful! And I can't stop taking pictures! It's really gorgeous! check it out.These were taken on the way to uni from
Chiam
's place.
This picture is dedicated to
Andy-Pandy
coz I know how much she loves daisies.

At least, I
think
they're daisies
This beautiful rose belongs to one of Chiam's neighbours. Couldn't resist....although I was tempted to hold it to stop it from swaying in the wind until I saw its vicious thorns. Scary....
And on-campus....

Pretty, no? Here, have a few more
This is another one of my personal faves.
And somewhere else on campus....
Yes, girls. I know it's very pink.
Again, in another location somewhere around campus...

This tree looks rather cool even though it's bare, ya?
I just thought this tree looked so cute. It looks like an over-sized broccoli. But the trunks are shaped in such a way that you feel u could just sit there and read a book. Rather like a hammock, really.
And this tree...for some reason or other is rather famous. I can't quite remember....something to do with it being old, I think... I'll take a picture of the sign nxt time I pass by there. It's a huge tree. The tallest tree on campus, I think... Looks more "Florida" than "Adelaide", don't you think?
St. Peter's Cathedral
I know it's been quite awhile since I last posted anything of interest to most of you, so here are some pictures I took while going to St. Peter's Cathedral. The bus from my place doesn't take me all the way to the church, and I had just missed the bus going in that direction, so I decided that I would walk, seeing as I was quite early for the service. I doubt I'll go back there for the service, but if I do, I certainly plan on walking there from now on. Since I don't have a camera, I have to make full use of my handphone. Quality's pretty good, I think.
Pretty flowers along the way


Not very sure what park this is, but it's quite pretty, kan?

The road leading to St. Peter's. Just imagine it in full bloom!

Can you see it?
Almost there now

Voila!
I think this is my best picture so far. No? Hehhehe...
Sounds like "penittance", kan?

I thought it was quite cool....what do u think?
Reminds me of St. Mary's, KL. But nicer. Hehe


I know you can't really see the stained glass, but thought I'd put it up anyway.

Interesting pews. Seems like every single one is dedicated to someone.

The church seems to be very, very traditional. I think it's quite a historical landmark in Adelaide. They even have tours of the church. The choir is AMAZING!!!!!!!!!!! I think they have more than one...coz before the service began, they said that this week's service would have the Gregorian choir. And they actually use incense and fling it around in this container hanging on a chain. Not sure what they're called though. It's quite a show, actually. They try very hard to preserve these traditions. Nice service. But I just don't feel like I can really worship there. It's fine if you feel like going for a concert or something. They sing twice as much of the service as we do. Most of the prayers, and even some of the bible passages are sung by the choir. I think they sing in Latin... couldn't understand a word except for "Hosanna". Hehehe... However, even with that much singing, their service lasted for 1 hour? 1 hour and 10 minutes, tops. I was rather surprised. The church has a pipe organ (of course), and in the church itinerary, I noticed something rather unusual. They actually have bellringing practice!!!!! I didn't really think you had to practice much for that.... Just get a little boy to "hang in there". Quite amusing... After the serviceI walked back to the city and was supposed to meet a friend for lunch. But I got lost, and ended up walking for an entire hour, and I lost 1 kg. YAY!!!!! And no, I don't want to get lost again. It's quite freaky when you end up on some road where there's NOBODY. *Cue scary music* Jeng-jeng-jeng!!! Ok, nvm. It's late. I'm going off to bed now. PPL!!!! LeaVe COMmENtS!!!!